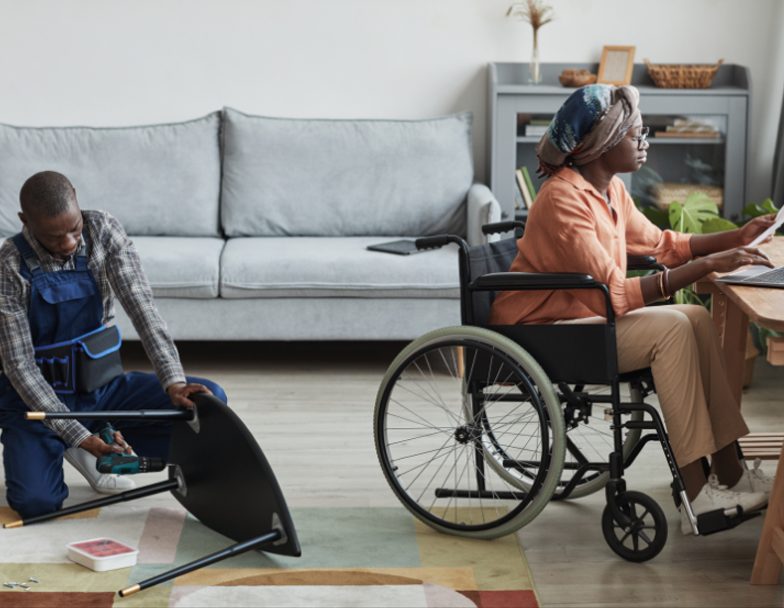 19/07/2022
Our professionals are the greatest
Zoofy: The platform for online appointments with craftsmen from your region.
Put an end to the frustrating search for tradesmen! With Zoofy, you can now find free appointments with professionals from your region – quickly, safely and reliably. Enter your place of residence in the search field and all bookable appointments will be displayed immediately. With just one click, you can secure your desired appointment with a craftsman of your choice. That's it! Try it out right away: Over 11,000 professionals from the trades already use Zoofy to book appointments.
Why Zoofy?
Quick help in an emergency.
Certified professionals from all areas of the trade.
Simple appointment booking.
Inexpensive: no travel costs.
Partner of IKEA, Hornbach and many others.
Our craftsmen are great
Just like ordering a taxi, you can find suitable craftsmen for repairs in your four walls via Zoofy. There's no need to contact them: with Zoofy, you decide when it's convenient for you. 11,000 professionals from the trades are ready to help you in an emergency. No matter whether you need an electrician, plumber, heating engineer, gardener or carpenter – Zoofy always helps you find the right craftsman in your region. By the way, you can also advertise plannable projects on Zoofy. Simply describe the project, enter the desired date and craftsmen from your region can apply for your ad. You decide who is to carry out the project within your four walls. You have questions regarding the use of Zoofy. Contact us! Our team will be happy to advise you personally.
About Zoofy
There must be an easier way! That's what Zoofy founder Arthur de Leeuw thought in 2015 after a conversation with his sister. She had been desperately searching for days for a free appointment with a heating engineer in her region. Only after four days of the heating remaining cold was a craftsman able to take over the repair. But when she looked at the bill, anger rose up in her again. High travel costs drove up the repair costs considerably. The start of Zoofy.
Arthur de Leeuw's conviction has come true. With Zoofy, he shows people and tradespeople that things can be simpler after all. The Dutch company has quickly made a name for itself from the heart of Amsterdam. The online platform Zoofy is already very successful in the Netherlands and is diligently expanding into other countries. Over 200,000 people have already booked appointments via Zoofy in the past. More and more tradespeople are also registering on the Zoofy online platform to book appointments. Using the app, you can book an appointment via your smartphone in just a few steps. Could it actually be any better? Yes, because Zoofy does not charge for travel! Fair help at fair prices for people in need!
Frequently asked questions
How do I pay?
After the repair has been completed, you will receive the invoice by e-mail to the e-mail address you have provided. Now you can pay the invoice amount online by the granted payment date.
Are the craftsmen checked for their qualifications?
Our team checks every craftsman who wants to register on Zoofy. We check training and work certificates to ensure that repairs in your home are carried out by a professional. Of course, we also keep an eye on all jobs and ask if customers were not satisfied with the work performance of the craftsman, because we want to offer you a service that makes your life easier.
How can I cancel an appointment?
As long as your appointment has not been officially confirmed, you can cancel the appointment at any time free of charge. However, once the appointment has been officially confirmed, the appointment booking is valid. Free cancellations are then only possible up to 48 hours before the agreed appointment. If you have to cancel the appointment at short notice, we reserve the right to charge cancellation costs of €30.00.
How can I report problems?
If you are not satisfied with the work performance of the craftsman, speak to him directly or contact our customer service within 72 hours – by phone or e-mail. In most cases, the craftsman himself will know a satisfactory solution. In exceptional cases, we will send a new craftsman to look at the problem on site and fix it for you. Together we will find a satisfactory solution for you.
Will I be charged for travel costs?
No, we do not charge any travel costs. We work with a network of professionals from all over the country. This means that we can almost always find a professional near you. Therefore, travel costs are unnecessary and you save money.